Linktopia: It Burns, It BURNS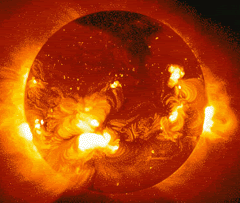 Surfing the best of the writers' blogs so you don't have to.
I don't care what you guys think of Al Gore, but Global Warming is FER REALS. I just spent an afternoon baking in a hot oven of an office with no a/c, so Linktopia is a tad incoherent this week. Or maybe that's 'cause I'm doing it, and not Therese. Whatever, it's hot and I'm sketching.
Or maybe it's the world that's sketching this summer. I just finished reading a new post on Melly's
blog
, and it really makes me shut my yap. Go there and send her some well-wishes. She needs them right now.
We welcome some new blogs to our sidebar:
Fiction Addiction
,
Man in Black
,
Pubrants
, and
Write on Write Right Now
. . . . Most of the romance blogging has gone silent due to the RWA conference this weekend, but
Romancing the Blog
never sleeps . . . .
Evil Editor
on the efficacy of the word 'but' . . . . I haven't been over to "Confessions" in a while, but Sarah's got some crime fiction
news
that's worth checking out . . . . the insatiable Random Reading
reviews
Jonathan's Stroud's Golem's Eye (love that title!) . . . . Victoria
reminds
us that there ARE reputable folks in the pub biz . . . .
Miz Snark
on what to reveal, what not to reveal in queries . . . . .
More after the jump.

Iran bans the DaVinci Code (ht Bookslut) . . . . BuzzGirl's got Hyperion's fall comers . . . . GalleyCat muses on Amazon's penchant for their willingness to do everything except concentrate on their core business: book selling . . . . HarperCollins launches online writing contest in romance genre. Too bad everyone's at the RWC convention . . . . some people will do anything for publicity (ht Slushpile) . . . . GOB shares some interesting observances on the Manchurian Candidate novel, the two remakes, and historical context

Write on!