AUTHOR INTERVIEW: Victoria Holmes, Part 1
Therese and I are beyond pleased to be able to bring you this interview of Victoria Holmes, author of four titles and editor of several successful YA fiction lines. Not only is she one of the hardest-working people in publishing today, she is a total delight. Our association with Victoria began when we interviewed the writing duo of Cherith Baldry and Kate Cary, who, as Erin Hunter, write the enormously popular YA fantasy series WARRIORS. What we didn't know at the time, and have learned since, is that WARRIORS is the brainchild of and edited by Victoria. As if shepherding WARRIORS titles through the publication process isn't enough work, she finds time to write a popular series of her own. During the course of our two-part
interview
with Erin Hunter, we realized that we had so many questions for this author/editor that we knew we had to pick her brain clean and find out what it takes to work both sides of the publishing aisle.
UPDATE: Starting next week (August 4) Victoria will answer your questions in the comment area. Writers who wish to learn more about this market won't want to miss this terrific opportunity; Erin Hunter fans may be able to tease more tidbits out of Victoria than we could. Enjoy!

Q: One of the things that amazes us is that you edit several successful lines for Working Partners LTD AND write children's fiction. How do you manage to juggle both responsibilities?
VH
: I guess I'm just greedy! Editing takes up by far the lion's share of my time, with writing squeezed into days off and weekends. I'm lucky to have long lead times for my manuscripts which helps relieve some of the pressure, although I confess I'm the sort of writer who ends up doing 8,000 words a day the week before the first draft is due. My math has improved enormously since receiving my commission for the four historical horse stories, especially long division: at the start of the schedule I think, "Ah, lovely, 2,500 words per weekend for the next four months will be a breeze," and by the end I'm thinking, "Okay, I should just make the deadline if I can do 7,384 words a day for the next week." In the future, I'd love to spend more time writing but right now I can't bear to give up any of my editorial work because I love it so much. Plus I work with a great team at Working Partners and I'd miss them like crazy if I was stuck at home on my own all day!
Q: What drew you to children's fiction?

VH: Interesting question, because the answer is that I don't really know. I have always loved writing stories, and was known as "the girl who is good at English" at school, but I never thought about writing for children in particular. I grew up reading obsessively but didn't stick to children's fiction – I devoured James Herriot's veterinary memoirs when I was five or six, and hoovered up the contents of my parents' bookcases with a quite alarming lack of discrimination. After university, I worked with horses for a year before becoming an English teacher, which was clearly not the right career for me; I adored my subject, but couldn't understand why my students didn't feel the same. With hindsight, I think I'd have made a much better Math teacher because I would have been better able to explain the processes involved. To me, things like punctuation and grammar are obvious: "Why does the apostrophe go there?" "Because it just does, okay?" Anyway, from teaching I moved to an editorial position for a schools-based book club, which introduced me to a wide and delicious range of contemporary children's fiction. My greatest treat was going down to the warehouse when everyone else was at lunch and sitting on a stepladder among the shelves to read the latest deliveries. After that, a move into children's publishing seemed like an obvious step. I applied for the post of Commissioning Editor at Working Partners and six years later, I'm still here. I couldn't imagine working in any other field of publishing now. Books for grown-ups seem way too long and difficult!

Q: As an editor, what do you look for in a strong project?

VH: We come up with all our own project ideas at Working Partners in order to retain moral and intellectual copyright, which means I get to stretch my creative wings on a daily basis as well as honing my script-editing skills. It also means that I commission writers, not projects. I think the ingredients of a strong children's fiction project remain the same across age ranges and genres: into the cauldron you need to put strong, interesting (and interestingly, not necessarily sympathetic) characters, a lively and easily understood plot, and a sense of relevance to the readers' lives. This doesn't have to be the sort of jaw-dropping contemporary social realism that I worship in Jacqueline Wilson's books, but the characters do need to tackle issues that can be identified in twenty-first century life. For example, a lot of the fanmail we receive for Warriors mentions how much the readers sympathize with Firepaw's struggle to fit in with the Clan when he first arrives in the forest. Also, and somewhat to my surprise, Ravenpaw remains enduringly popular because so many of the fans understand what it's like to feel shy and awkward in group situations. I must confess I adore Ravenpaw too for this precise reason – there's a lot of me in him, plus he's the person I'd like to be because he always acts with such dignity and honor toward his old friends.

Q: It seems that series dominate the children's/YA market. Is this trend going to continue?

VH: Working Partners achieved its first major success with Animal

Ark, which is still going on after more than one hundred titles and has generated a huge following all over the world. Clearly our fans have large bookcases! But a few years ago, publishers seemed to move away from buying series and focused more on single titles or trilogies. The feeling seemed to be that the fashion for series had waned and children wanted quicker fixes in their reading matter. Happily for us, the trend for series has never really gone away, perhaps because young readers are veritable magpies when it comes to collecting books. The Harry Potter phenomenon is the obvious example, but look also at the success of Phillip Pullman's backlist, following the publication of his fabulous Northern Lights trilogy. Warriors was originally devised as a single, stand-alone title; this stretched to six when we came up with too many ideas to fit into the first story. Then came The New Prophecy, which was a trilogy right up until the first manuscript was delivered, when we realized it would make more sense to do another batch of six. And now we're working on The Power of Three, with no sign of stopping after this batch… As far as my own books are concerned, they have remained as single stand-alone titles but I can't help coming up with adventures for my characters to have in future stories while I'm writing each manuscript.

Q: And speaking of the WARRIORS juggernaut, you were the brainchild and editor of this enormously popular series written by Erin Hunter. Have you been surprised by the devoted following it's generated?



VH: When I started work on Into the Wild, I had only been an editor for a few months and it just felt like a rather complex and unwieldy feral cat fantasy that would bring some sort of badge of honor if I got to the end of the first manuscript. I have never been a fan of fantasy fiction or stories about animals (even though I was brought up on a farm and love, love, love all four-legged furry creatures), so while I gave the script my all, I never imagined it would conquer the world. I can clearly remember the point when I thought, "Hang on, this is turning into something special." It was when I came up with the back story for Book Three: Forest of Secrets, in which Bluestar had given up her kits to RiverClan in order to become deputy of ThunderClan. I recall sitting at my keyboard, tapping away to unpeel the layers of emotion that must have led to her momentous decision, and suddenly realizing how real and vital the Clans' world had become to me. From then on, the storylines seemed almost to write themselves as the characters played out their dramas on their wooded stage, and I guess I figured that if the action excited me then it would probably excite a fair few other people as well. And of course I have the honor of working with two incredibly talented writers in Kate and Cherith. They make editing each script a joy, and we share a lot of laughs and moments of inspiration before each book is put to bed. They each write so exquisitely that my cheeks turn green with envy, and I'm thrilled that so many readers appreciate them too. But I never imagined we'd beat Harry Potter one day!

Q: Storylines for the children's/YA market seem to be getting edgier. Are tastes changing, or have kid's stories always been edgy?

VH: No one could deny that contemporary children's/YA fiction embraces some pretty stark subject matter, such as drugs, relationships and imploding families.

Q: What advice would you give to someone who wants to pursue a career writing for children? Is having an agent important when trying to break into this market?

VH: Read everything in the children's section of your local library, especially popular contemporary titles. That's by far the best way to get a feel for what the marketplace wants today. Too often, aspiring authors write in the style of books they loved as children, and that's just not commercially viable now. Publishers look for modern, lively voices that can speak the language of twenty-first century children, even in genres like fantasy and historical novels.

Think about the perspective of your story: nearly all children's books are written from a limited third person perspective, which means we can see into the thoughts of the central character but no one else's, and we only see things when he or she is around to witness them. This is a big difference from adult fiction, which often splits the narrative between several different third person viewpoints.

Make sure that the story is as much character-driven as plot-driven so your protagonist is always in the thick of the action, making things happen around them. Children tend to identify with characters before plot or historical setting, so the individuals in your story need to leap off the page as rounded, sympathetic and adventurous characters whom readers can easily imagine as their friends.

Check that the length and structure of your story match successful examples in the marketplace. It's very common to receive a generally well-written manuscript that is much, much too long for the intended readership. Publishers have fairly hard and fast rules about how long a book can be for each particular age range, so there's no point sending them a script that's way off target. For example, Warriors books are 70-80,000 words long, which is as long as most scripts would ever be for the children's market. First chapter books, for new readers aged 4-6, tend to be nearer the 3,000 word mark.

Finally, remember that if you read your script to a child that knows you, you will invariably get a rave review. Children love being read to, and respond enthusiastically to the idea of hearing a brand new story from The Person Who Wrote It! This is not a reliable critique, unfortunately, so be prepared for some much sterner responses from Commissioning Editors.

Agents definitely open doors where mere mortals can only tap feebly from the outside, and they are also in a great position to advise a writer on shaping their manuscript to make it the best possible commercial prospect. There is a truly alarming amount of competition in the world of children's fiction and having an agent could help a writer avoid the slush pile of unsolicited scripts and make it onto someone's desk. I'd recommend approaching agents with a good track record in children's fiction, although not necessarily representing authors offering the same style and genre you have chosen because that could become cannibalistic. Listen to their advice because even though judging fiction is wholly subjective, if you find that several agents say the same thing about your script, they're probably right.

Q: Your own books are historical novels centered around girls and horses. What drew you to writing these types of stories?

VH: Is it too simplistic to say that I love horses, and I love history? To be ruthlessly honest, I was never intended to be the writer for this series; I developed the concept and came up with the original storylines as part of what I do every day at Working Partners, in response to a rise in interest from publishers in new horse-themed fiction. At the time, historical fiction was also enjoying a wave of popularity, and I had just been on vacation in the English county of Dorset where my imagination had latched on to tales of smugglers and wreckers and beautiful hills overlooking long stretches of stony beach. The storyline for RIDER IN THE DARK more or less fell into my lap intact – girl on stunning dark brown horse won in her father's game saves ship by relighting sabotaged beacon on stormy night. The others took a little more thought, apart from HORSE FROM THE SEA which had been pottering about in my head ever since a visit to Western Ireland with my best friend Joe; I clearly remember standing in the middle of the Connemara mountains and saying, "One day I will write a story set here." I enjoyed working on the storylines so much that it made sense for me to try out, anonymously, alongside other writers for the Working Partners commission. So I landed a publishing deal for four hardback books with one of the biggest publishers in the world without having written a full-length script in my life. Be careful what you wish for!

Q: You've set your books in a variety of historical eras: RIDER IN THE DARK, 18th century Britain, HORSE FROM THE SEA, 16th century Ireland, and your upcoming release, HEART OF FIRE, set in the aftermath of WWI. How do you choose which era to write about, how much research do you do, and how do you decide what level of detail a young reader will accept?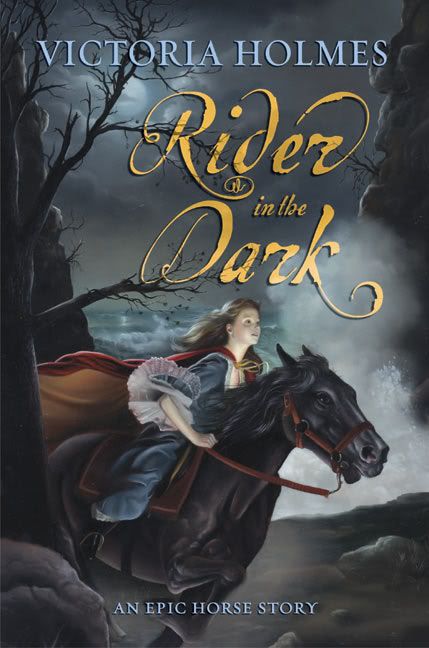 VH: I am inspired primarily by a sense of place – Dorset for RIDER, Galway and Connemara for HORSE, the country estate in Berkshire where I grew up for HEART, and now gorgeous Dartmoor in the county of Devon. (I should add at this point that I have never lived in Maddie's mansion in HEART – my father owned a restored gamekeeper's cottage in the pine woods by the canal on the edge of the estate.) I know that I want to write about a particular location when I can't stop the stories tumbling into my head as I look around. The historical era is dictated partly by notable events that happened here, which meant the sinking of the Spanish Armada for HORSE and smuggling for RIDER, and partly by times that hold a particular fascination for me. This accounts for the post-WWI setting for HEART and the English Civil War/witchcraft theme for the next book. I research different aspects of the period – clothing, food, daily life, politics, entertainment, transport – until I feel confident that I know what would be going on in each scene and how the characters would feel about it, and I wouldn't hesitate to include any level of period detail in a story. It's the tiny details that bring a story to life, and I've never had a reader complain that they learned too much about Helena's meals in RIDER, for example! My golden rule is that the story must move forward on every single page, and as long as that happens I can pack incidental information tightly around the action.

I use a number of different methods for research, starting with reading, although too much of this makes me feel like I am taking my History exams all over again! Visiting is the most important, and most enjoyable, methods for me – visiting locations, museums, historical exhibitions, people who use traditional crafts. I take dozens of photos that I can surround myself with when I start writing, so describing a scene is simply a matter of looking at a picture and writing down what I see. The towerhouse of Murray na Doe in HORSE is a real place, still standing and beautifully restored by a heritage trust. Before I visited, I had no idea that Murray had built a trapdoor beneath one of the flagstones in his dining hall – as soon as the guide told me about it, I knew it would become an integral part of my story.

Q: What is your writing process? Do you start from character, plot, or the historical moment? And are you a plotter or a pantser?

VH: I am a PLOTTER. Right down to the tone of conversations and the lighting in the scene. The storylines I provide for my Warriors writers are a good example of this: the synopsis for Firestar's Quest, the stand-alone title which comes out next summer, runs to over 30,000 words which is nearly a third of the entire book! I imagine each scene so vividly that I can't bear to leave out any of the details. The only rule I set myself is that I won't write any of the dialogue in full, but I rewrote this rule long ago to mean "no speech marks". So there are plenty of conversations in the synopsis, but you couldn't spot them just by looking.

Part Two of our interview with Victoria Holmes will go live August 4.