Lessons from Lord of the Rings, Part 4
Yesterday we posted Part Three of our article (co-written with author
Elena Greene
) on lessons writers could draw from Peter Jackson's Lord of the Rings movies. I'm too lazy to link the trackbacks, but a simple scroll will get you to Parts One, Two, and Three.
Sigh. As I revisit the lessons, I grow nostalgic for the heady days when the movie-goer impatiently waited for the next installment of these Acadamy Award-winning films. Now
that's
good storytelling. On to the next two tips!
7.
Find the right blend of external and internal conflict
Pacing has been the downfall of many writers. One way to control it is to alternate action and dialogue, which reads "faster," with a scene showing internal conflict or introspection. But how much to use and why?
Though that decision is part and parcel with the alchemy of writing, lessons can be gleaned from the filmmakers, who were masters of pacing.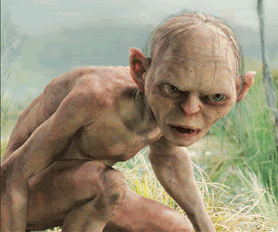 Wearing viewers out with big chunks of battle sequences was a real risk, but the filmmakers solved it by varying the action with a plethora of internal conflict scenes: Gollum debating with himself over what to do with his hobbit companions; Aragorn interacting with the besotted Eowyn; Frodo struggling to hold on to hope; Faramir weighing winning his father's respect against sending his men into a hopeless battle.

Flashbacked moments of the romance between Aragorn and Arwen were used broadly and achieved a twofold purpose: slowing the pace while reminding the viewer what was at stake should Aragorn fail. The viewer was also granted a respite of beauty and peace before being thrust back into the carnage of war, sharpening the emotional response to both.

Readers cannot sustain interest in page after page of breakneck action or breathless dialogue. How's your mix?

8. Trim the fat

When the time comes to edit your drafts, take a hard look at scenes that are not driving the story forward or adding dramatic power. During the adaptation of this beloved classic, the filmmakers continually struggled between the need to cut while retaining essential storylines. They hewed to a mantra: if it did not support the main story--Frodo's quest to destroy the Ring—then it was trimmed.

Romance fans (we are among them!) were saddened when the secondary love story between Faramir and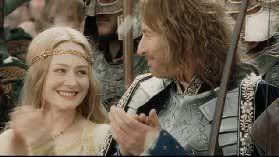 Eowyn was distilled to little more than a secret smile between the two characters in the theatrical release and a thirty-second hand-holding scene in the extended version. Another intriguing storyline that was edited down was the conflict between Denethor and his sons. Rightly, the filmmakers focused on trimming secondary characters first in order to maintain the integrity and focus of the main storyline.

Though it is painful to jettison secondary characters and scenes, look to those areas first when choosing what to cut in order to stay true to the heart of the story.

Check back next week for our final installment of LESSONS FROM LORD OF THE RINGS. The conclusion will be gripping!