AUTHOR INTERVIEW: Erin Hunter
Watch out, Harry Potter! The hottest fantasy series for school-age children features not the young wizard with a scar, but a pack of feral cats struggling to survive in the wild.
Note: STARLIGHT, the New Prophecy, is #2 on the New York Time's children's bestseller list as of 4/13/06.
The series, WARRIORS, is the work of author Erin Hunter, who is actually the nom-de-plume of two writers, Cherith Baldry and Kate Cary, and the brainchild of Victoria Holmes, editor for Working Partners LTD. With 10 books in the series and more titles on the way, the cat-clan craze is sweeping the 'tween set.
Kathleen and Therese chatted with Cherith, Kate, and Vicky about writing for children and why this series has resonated so deeply with their readers.
This post has recently been updated so that parts 1 and 2 can be read together here. Fans who'd like to read through old comments for part 2 can still do so by clicking here.Q
:
Our school-age daughters are crazy about your WARRIORS series, and they were both surprised that Erin Hunter is actually two people! How did you both come together as writing partners? Can you talk a little bit about how your process works and how you work to make two voices into one?

CHERITH: Kate and I aren't writing partners in the sense that we collaborate. We each write individual books within the same series. We were both brought into Warriors by our UK editor, Vicky, who had the original idea. Now we discuss the storylines with Vicky and she makes sure that what we write is consistent.



KATE: It is Vicky, our editor, who brought us to the project – she is the "hub" of Warriors. Cherith and I have never met! I suspect we were chosen for the project because we both instinctively had the right voice, so it comes to us both quite naturally. We take it in turns with the writing – for the first series, I wrote Into the Wild and Fire and Ice, then Cherith took over for the third book, I did the fourth, and Cherith did books 5 and 6. Vicky works hard to keep continuity – there's a big cast list and it changes and grows all the time! Cherith probably has her favourite characters, just as I do. Sometimes it's hard to put a character into someone else's hands; but I trust Cherith to retain the essence of characters I've created (like Yellowfang and Graystripe) and I hope I nurture the cats Cherith has created (such as Squirrelflight and Brambleclaw). Fortunately we have Vicky at the centre of it all to keep an eye all the cats and make sure they don't stray from their original nature.

Q: Vicky, did you think it was risky, bringing two authors together to work under one name?

VICKY: No, because I work with more than one writer on several very successful series. I am very used to working in this way, and think it's way more fun than the standard sort of editing where you work with one person alone!

Q: What did you do to ensure it worked

VICKY: I decide in advance where each series of Warriors stories is going to head, and which cats should feature as protagonists. Then I discuss each individual story with Kate and Cherith to check that my ideas make sense with them, and to incorporate their ideas about what should happen. I keep very detailed lists of character names and descriptions, the rituals used by the Clan, and what happened in previous stories so that everything (hopefully!) stays consistent from book to book. Once Kate or Cherith have written the manuscript, I go through it carefully to make sure it matches with the storyline we agreed previously, and that all the details fit with what has gone on before. I also make sure that it "sounds" like Erin, because she has a very distinctive voice. In reality, this is a combination of three different writing styles: mine, Kate's and Cherith's. I think of it as being able to "speak Erin Hunter", like speaking a different language, and after working on more than twelve scripts, I know pretty much at once if a line or phrase doesn't sound right.

Q: Cherith and Kate, what are the literary influences that inspire you both? What made you want to write stories for children?

CHERITH:
My grandfather made up wonderful stories, so as a child it seemed to me that making up stories was something that people naturally did. It's only quite recently that I've realised not everyone goes around with their head full of imaginary characters! I've always read a lot, and it was my ambition to write a book from being very young.

The writers who have influenced me most are J R R Tolkien, C S Lewis and Ursula Le Guin. I love Arthurian legend and I've read a lot of different versions, both the original medieval stories and modern novels. I wrote an Arthurian novel of my own (for adults) called Exiled from Camelot, and for children a series of medieval mysteries, The Abbey Mysteries, with Arthurian fantasy elements.

KATE: Books provided a rich and comforting world for me as a child. I can still remember the excitement of waking up on a weekend, a book waiting on my nightstand, and realising that I could lie in bed and read. The thought that I can now create the sort of worlds I used to escape into is unbelievably exciting.

When I was younger, I enjoyed fantastical stories – I always preferred Enid Blyton's fairyland stories with their pixies and elves over her Famous Five or Secret Seven stories. But as I grew toward my teens I began to prefer stories where I could identify with the characters – I remembered adoring Emily of New Moon – indeed all of L. M. Montgomery's heroines. I went through a splendidly intense Nancy Drew phase and I thought anything by K. M. Peyton was fabulous- particularly her Pennigton books.

The great thing about the Warriors series is that I get the best of both worlds – I can create a fantastical environment, yet fill it full of very realistic characters which I (and hopefully) our readers can identify with.

Q: Why do you think fantasy literature for children is so prominent these days? Is it the Harry Potter effect, or something deeper?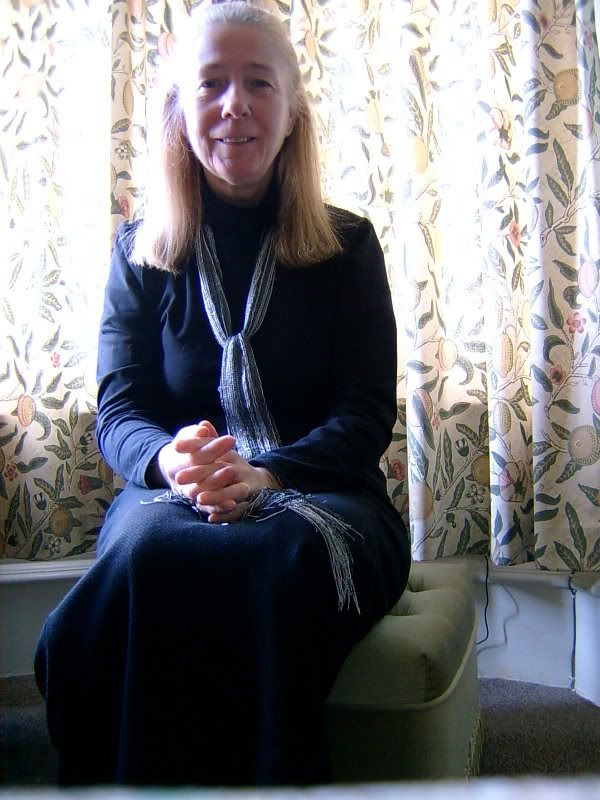 CHERITH (at left): I think the Harry Potter books have created a greater interest in fantasy literature in the present day, but I think the need for fantasy is something very deeply rooted in the human mind, not just for children. Fantasy can deal with fundamental human emotions like love, grief and fear, and so it helps us deal with those emotions in the real world. And it helps to stretch our imaginations, which I think is vital for everyone.

KATE: I think Harry Potter is a sign of a deepening need for fantasy to brighten our lives. It seems to me that children's lives are more restrictive and more pressurised than ever before. I remember as a child roaming my neighbourhood with a big group of friends. We all knew that when the streetlights started to go on it was time to get home, but apart from that we were free to have as many adventures as we liked. Now children are only let out of the house for organised and structured activities, and meanwhile school is becoming more and more loaded with tests and goals. I'd hate to be a child nowadays and I'm not surprised that kids need more than ever to escape into the world of the imagination, because it's the only place they can be really free and un-judged.

Q: Can you tell us where you came up with the concept of feral cats as protagonists? What drew you to this world?

CHERITH: As I said above, the idea was originally Vicky's, but I jumped at the chance to work on Warriors because I love cats so much. They are mysterious, subtle animals with great depth of personality, so it's easy to develop them as characters and set them to interacting with each other.

KATE (at right):
Goodness knows where Vicky came up with such a great idea! I'm just glad she gave me the chance to make it into a reality. It certainly wasn't hard to build a world "peopled" by cats. I've always had cats around and anyone who has a cat will know that they are animals with such well-defined personalities that it's easy to imagine they have a life beyond the human realm.

VICKY: Believe it or not, I don't like cats! Luckily Kate and Cherith are big feline fans, so they stop me from being too cruel in our storylines. But I've grown up with cats and have always been fascinated by how thoughtful they are, and how reserved, as if they have amazing private lives that Twolegs could hardly guess at. Feral cats seemed like an excellent compromise between regular domestic pussycats and a truly wild animal: they have all the freedom and independence of living in the wild, but they would be instantly recognizable to readers as the pet lying on their lap.

Q: We swear we're never going to look at our cats the same way again. How does the study of cat behavior inform the storytelling? Was it difficult to imagine the world from a cat's eye view?

CHERITH: No, I didn't find it difficult at all. And my two cats – Brambleclaw and Sorreltail – make sure that I have all the research material I need!

KATE: Not at all. Cats have such a knowing look in their eyes that it's always been easy for me to imagine that they are thinking and guess what those thoughts might be. Actually expanding those thoughts into the whole world of Warriors has been great fun and really just a natural progression in my love of cats! All the cats I've lived with have had their own distinct personality just as human beings do – so while the physical movements of the cats in Warriors – the way they narrow their eyes or flick their ears or brush past each other – are informed by direct observation, the characterisation I give them is informed as much by my experience of human beings as of felines!

Get up, stretch, then come on back to read Part Two of Erin Hunter's interview below!


Recently, Kathleen and Therese had the opportunity to chat with British writers Cherith Baldry and Kate Cary, who write as children's author Erin Hunter, and their editor Victoria Holmes, who is the brainchild behind this popular series for school-age children. If you didn't get the chance to read part one of their interview, check it out now by clicking here. Below is Part Two of their interview.

Q: The plots in WARRIORS are very Shakespearian: a mad leader, intra-clan betrayal, war, star-crossed lovers, death. Did you worry about making the stories too intense for young readers?

CHERITH: We all – Kate, Vicky and I – are aware that we have a responsibility to young readers. We're always sensitive to the age group we are writing for. But in my view, exercising that responsibility doesn't always mean protecting children from the painful things that happen in real life. That would make their fiction bland and boring. But we try to make sure that these elements are presented in a way that young readers can understand and that won't be too disturbing. And when we address difficult subjects, we always try to include a reason to hope, or some positive element. For example, the death at the end of Moonrise is devastating for the characters involved – and it was very hard to write – but that character chose the sacrifice to save many other cats.

KATE: You're right – danger, grief and loss are all contained within Warriors, but I never worry about the stories being too intense. It is inevitable that even the toughest child is going to feel the world very intensely because the world is still quite new to them. Books provide a safe way to 'practise' intense emotion. I care about my readers as I would any child and part of my job is to steer them through the Warriors world, cushioning the blows whenever possible with encouragement and hope but never trying to lie to them by pretending that the world is an easy place to live in.

Q: Our daughters wait with bated breath for the next in the series. What do you think makes these books so addictive?

CHERITH: They have strong storylines and characters it's easy to relate to. They're also set in a detailed world, so readers can imagine what it would be like to live in a Clan.

KATE: I really don't know! I only know that every child I have met who has read the Warriors book has the same thought – that maybe the Warriors' world could exist just beyond their garden fence. Perhaps it's this possibility that awakens such a strong response in our readers.

Q: Vicky, you are also an author of stories for children. How do you balance your editing duties with writing fiction?

VICKY: I don't have a social life! Well, that's not strictly true, but I rarely take more than one day off at the weekend. I work as an editor during the week, which means being part of the creative team at Working Partners, coming up with new series and storylines and then steering writers through each stage of the manuscript. I am attached to nine projects altogether, covering all age ranges and genres. Warriors is my favourite, even though I'm more of a dog person than a cat person. I think this is actually an advantage because it allows me to be ruthlessly unsentimental and have nasty things happen to the nicest cats. But I do get sad at death scenes! The death of Feathertail in Moonrise (The New Prophecy Book Two) is particularly heart-rending, I think. My favourite death scene is Tigerstar's: just when you think his longtime enemy Firestar will get to deal the fatal blow, a complete outsider (Scourge of BloodClan) comes into the forest to rip all nine lives from his body in one go. In the end, Firestar feels horrified and saddened by Tigerstar's death in spite of all their bitter history.

Writing my own books gets squeezed into weekends and vacation time. HarperCollins Inc. have been terrific to work with because they give me long lead-times with each script, so I have a chance to do all the historical research necessary for each new story. I've always been fascinated by history, especially when it is rooted in a dramatic location like Western Ireland, so doing the research is half the fun. It's like being at high school all over again!

Basically, I never stop turning stories over in my head. When I'm walking my dog or traveling to work, there are always adventures unfolding behind my eyes. I've missed my train stop more than once because I've been pelting through the forest beside Firestar! When things are going well, I can hardly type fast enough to keep up with the movie in my imagination; other times, I can't think what might happen next, which is usually when I give up and take my dog for a walk or bake some cookies instead.

Q: Tell us about some of your titles.


VICKY: Books under my own name so far are: RIDER IN THE DARK and THE HORSE FROM THE SEA.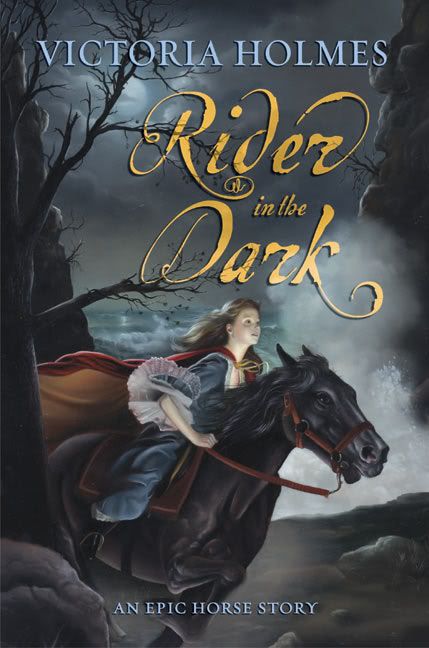 HEART OF FIRE will be out in September 2006 and the fourth, as yet unnamed, will be out a year later. All are published by HarperCollins Inc. Each story is set in a different British historical period and features a girl and a horse having adventures.

Q: What draws you to the world of horses and girls?

VICKY: I'm very lucky in that I grew up on a farm and was able to have horses from the year dot. I was never a particularly competitive rider, and mostly enjoyed hacking around the countryside on my ponies. I was a fairly solitary child, mainly because we lived on a farm outside the town so we didn't have lots of friends on our doorstep, so I spent a lot of time with my four-legged friends instead. After I left college, I worked as a groom on a show-jumping yard and learned a completely different side to horsemanship. Even though I worked with some truly gorgeous and talented horses, I think I temporarily lost sight of the sheer joy a horse can bring to your life. By the end of the year, I knew I didn't want to make horses my professional life, so I trained as an English teacher and after a few years of that, switched to children's publishing. Riding has gone back to being a very precious hobby, which seems to leave a lot more room to appreciate my relationship with an individual horse.

Q: What advice would you give to authors who wish to write fiction for kids?

CHERITH: Get to know children and what kinds of thing they like. Read a wide range of current children's literature. Many adults write the kind of books that they enjoyed as children, and while these are wonderful books, the world has moved on. Don't 'talk down' to children. Don't think that writing for children is the easy option. It's just as hard to write well for children as to write well for adults – if not harder. A good children's writer will respect their audience and give them the very best books they can.

KATE: Don't give up! Be very certain that you know whom you are writing for and what your audience want to read about. Either use trial and error or simply research. See what other writers are producing, what children are buying and find out what you are good at. It's a waste of your time and skills writing epic fantasy if you have a really good and sharp grip on reality.
Or trying to be serious if you're actually very witty. And try to persuade an agent or editor to believe in you, because their experience will be invaluable.

VICKY: Read everything in the children's section of your local library, especially popular contemporary titles. That's by far the best way to get a feel for what the marketplace wants today. Too often, aspiring authors write in the style of books they loved as children, and that's just not commercially viable now. Publishers look for modern, lively voices that can speak the language of twenty-first century children, even in genres like fantasy and historical novels.

Think about the perspective of your story: nearly all children's books are written from a limited third person perspective, which means we can see into the thoughts of the central character but no one else's, and we only see things when he or she is around to witness them. This is a big difference from adult fiction, which often splits the narrative between several different third person viewpoints.

Make sure that the story is as much character-driven as plot-driven so your protagonist is always in the thick of the action, making things happen around them. Children tend to identify with characters before plot or historical setting, so the individuals in your story need to leap off the page as rounded, sympathetic and adventurous characters whom readers can easily imagine as their friends.

Check that the length and structure of your story match successful examples in the marketplace. It's very common to receive a generally well-written manuscript that is much, much too long for the intended readership. Publishers have fairly hard and fast rules about how long a book can be for each particular age range, so there's no point sending them a script that's way off target. For example, Warriors books are 70-80,000 words long, which is as long as most scripts would ever be for the children's market. First chapter books, for new readers aged 4-6, tend to be nearer the 3,000 word mark.

Finally, remember that if you read your script to a child that knows you, you will invariably get a rave review. Children love being read to, and respond enthusiastically to the idea of hearing a brand new story from The Person Who Wrote It! This is not a reliable critique, unfortunately, so be prepared for some much sterner responses from Commissioning Editors.

And now we're going to open the floor up to two fans who love everything Warriors.


Questions from Sophie, age 9: My favorite cat-warrior is Graystripe. Why did you have him captured by Twolegs? Will we ever see him again?

CHERITH: Well, it keeps readers anxious as they wonder what has happened to Greystripe! As for whether you'll see him again – you really don't expect me to tell you that, do you? ; )

KATE: I loved Graystripe and it was awful to write the scene where his little gray face stared terrified from the back window of a monster as the Twolegs carried him off. I still haven't quite recovered and the Clan doesn't seem the same without him. At the same time though, it's deliciously exciting wondering what's happened to him and whether he'll ever be back, which is of course why we did it. And I would hate to spoil the suspense by telling you anything now!

Q: How did you come up with the Clans?

CHERITH: This was part of Vicky's original concept.

KATE: Vicky, our splendid editor, will have to answer that one!

VICKY: We wanted to have a complex and well-structured society for our cats so they could have political disagreements as well as personal conflict. "Clan" seemed like a wild-sounding word for a group of feral cats.

Q: In the New Prophecy series, how come Specklefur and Frostfur stayed behind in the forest when the other Clans left?

CHERITH: They felt they were too old to make the journey and to adapt to a new place. There was plenty of room for them in the old forest that they knew and loved, even though it wouldn't support all four Clans any more.

KATE: They were too old to make the journey without being a burden to their already struggling Clans. They were being noble. But they were also frightened. They simply couldn't face dying in an unfamiliar place. They wanted to be sure that when they did die they would be in a place where StarClan could see them and be there to welcome them into their ranks.

Q: What should I do now if I want to write books when I grow up?


CHERITH: Read, read, read, read, and then read some more.
Take advantage of your English language classes so that you learn how to write a clear sentence, spell and punctuate properly. Our language is a beautifully tuned instrument and it takes skill to use it well, just as it does to play, say, a violin. Publishers don't have staff whose job it is to fix bad grammar. It has to be right.Get out there and enjoy life. If all you ever do is write, you'll have nothing to write about.

KATE: Practise! Writing is no different from any other skill – you wouldn't think of appearing in a piano concert without practising first! Read and write whenever you can. Try different styles and subjects until you find which one you enjoy. Experiment! And don't be put off by criticism. Learn from it where you can, but ignore anything that you find too crushing. After all, critics are only human – you'll know instinctively when a critic is right. Use criticism as a way of growing stronger – don't collapse under its weight!

Questions from Riley, age 10: Do you have disagreements as writers, and if so how do you solve them?

CHERITH: Kate and I don't disagree, because we don't collaborate on the same book. Sometimes I disagree with Vicky, but they're always friendly disagreements (so far!) We resolve them by discussing them, and because we're both committed to Warriors it's usually quite easy to work them out.

KATE: Cherith and I don't disagree because we don't share the writing – each book is our own pet project – but we do each have to share with Vicky. I disagree with Vicky sometimes, but I trust her judgment and she is happy to take on board my ideas so we usually come to a speedy agreement.

VICKY: As Kate and Cherith have already mentioned, we sometimes have different ideas about what should happen or how a character should react. We never disagree for more than a minute or two because one person always manages to persuade the other with a stronger argument! Kate and Cherith often have a better idea about where the story should go once they're in the middle of writing a manuscript.


Q: Why is the New Prophecy series about Brambleclaw instead of Firestar?

CHERITH: I feel that we've told Firestar's story now that he has defeated Tigerstar and made the forest safe from Scourge and BloodClan. (Though there is to be a one-off novel, set between the end of Series 1 and the beginning of New Prophecy, which will use Firestar as a central character.) I think that for Warriors to stay fresh and interesting we need to focus on one or more new characters. Brambleclaw has problems, but they're not the same as Firestar's.

KATE: It was simply time to move on. I was certainly growing a little tired of Firestar second-guessing himself and worrying about his kittypet roots. Having new lead characters is exciting and gives us a chance to explore new personalities with different obstacles to overcome. I do love the fact that Tigerstar has always remained in the background, through Clan memory and through his offspring, as a shadow that overcasts all the Clans. And I guess Firestar is doing the same (though, thankfully, not from the grave!) – he is a constant light, which burns steadily in the background.

Q: I like Feathertail and Frostfur. Where did you come up with all the names for the cats?

CHERITH: Vicky, Kate and I all think up names. They have to be made up of elements that would be familiar to the cats, such as the parts of a cat's body, or the colour of their fur, or things they would see around them in the forest.

KATE: It can be tough coming up with all the names – (although our fans seem to find it easy enough!) We all chip in, inventing new names when they are needed. I used to find it limiting, having to take inspiration only from the sight, sounds and scents the cats would experience, but the more I live in the world of Warriors, the richer and more diverse it becomes and I find now that I have a wealth of choice.

Q: Why did Cinderpelt have to be injured? She changed a lot.

CHERITH: Cinderpelt's injury was part of the damage that Tigerstar did to his Clan in his obsession with power. He wouldn't be an effective villain if no cat was ever hurt because of him. Yes, she did change a lot, but I like to think that her injury brought out aspects of her character that were there all along, but hadn't had the chance to develop up to then. (BIG HINT: we still have a long way to go with Cinderpelt's character!)

KATE: I'm afraid Cinderpelt's accident was necessary for Firestar's developing character – he had to learn how to deal with tragedy and guilt, how to take responsibility – and Cinderpelt had to suffer so that we could see the lengths Tigerclaw was willing to go to to win power. Poor Cinderpelt! I only hope that we made up for her suffering by giving her a far more complex and important role in the Clan's adventures than she ever would have had if she'd completed her warrior training. The path she took meant that a different side of her personality developed, and it's one that I have grown to love as much as the cheerful young apprentice she started off as.

Q: Will you write more books in the original Warriors series (as well as the New Prophecy series)?

CHERITH: No, Series 1 will stay at six books, though as I said above there will be a one-off novel set between the two series. The title we're working with at present is FIRESTAR'S QUEST, and I'll be writing it. I promise, it's an awesome story!

KATE: Firestar is about to have his own adventure in a one-off book, but there will be no more books in the original Warriors series. I'd like to think that the original series and the new series will become seen as one long, unfolding saga which builds on itself, book upon book, rather than separate adventures. I'm in the middle of writing the first book in a third series. Again with new protagonists, but I promise that it will still be deeply rooted in the original Warriors series.

VICKY: We're very excited about FIRESTAR'S QUEST (a Special Edition book coming out next year), in which we find out what happened after the battle with BloodClan, and before StarClan sent the prophecy about the destruction of the forest. With the death ofTigerstar and Scourge, peace seems to have returned, and Firestar can get on with being a good leader to his Clan. But he is troubled by visits from a warrior ancestor he has never seen before. Who is this cat? What does he want with Firestar? And if what he says is true, then StarClan have lied to Firestar, and the warrior code is worth nothing...The kittypet turned leader, the fire who saved his Clan, must leave the forest and go on a long, dangerous journey to find out the truth - and restore his faith in StarClan.

You might be interested to know that we've just started work on the third series. It's going to be called POWER OF THREE, and will skip ahead one generation to some kits who will have a major impact on ThunderClan's destiny. Since you're clearly some of our most dedicated fans, we thought you'd like a sneak preview of the prophecy that sparks off this gripping series. Firestar receives it in a shadowy cave, far from home, from an ancient cat that is not from any Clan that we know…

Three will come, kin of your kin, with more power for good or evil than any cat that has walked the forest before.
Hmmmm, who could these cats be? And will they be a force for good – or will they destroy ThunderClan forever? You'll have to read the books to find out!

THANK YOU, Cherith, Kate and Vicky, for a fantastic interview. Warriors, the New Prophecy #4, STARLIGHT is available at booksellers and online retailers such as Amazon.com.

Thanks, too, to John Mariott and JEM Photography for letting us use their cute bear print. We love all furry animals here at Writer Unboxed!